Organizers
Executive Directors:
Trevor Dickinson:
Trevor is originally from England and has had a long and successful business career, living and working all over the word. More recently as a Business Angel he invested in a diverse range of companies covering many industries. Most have a certain "geek" factor and include, among others, semantic search engine technology, unique QR code application and tracking, data trend and demand analytics, video editing and collaboration software, holographic virtual reality technology and smart sensor textiles. However, his hobby and passion is the Amiga computer. He is a long time Amiga enthusiast, collector and co-founder of A-EON Technology and has worked hard to keep the Amiga dream alive. Although he has a particular fondness for the Classic AmigaOS and AmigaOS 4 he is also interested in all Amiga-inspired flavours, including MorphOS, AROS and Amiga emulation. In recent years  he has even begun exploring the wonders of Linux, especially when installed on one of his Next-Generation PowerPC "Amigas". He lives in Wellington, New Zealand with his wife and Commodore and Amiga computer collection.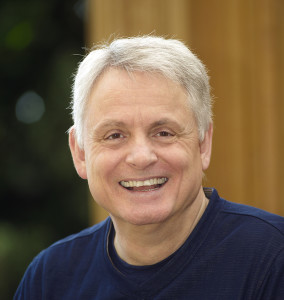 Luca Severini:
Luca (Severini) is a software engineer from Italy who came in California 
in 2008 to get a CS degree.  He has worked many years in desktop-publishing industry in Italy and Germany developing software for some of the largest editorial companies down there.  Coming from a country with plenty of it, he always liked history and discovered his passion for retro-computing when he bought here his first Amiga ever on eBay in 2009.
Since then he now own also a super-expanded Amiga 1200 and an original Amiga 1000 other than some thirty more consoles, home and personal computers from the 80′ and early 90′.  During his studies he has worked at Apple, RTI and Cisco.
He is also involved as a volunteer at the Computer History Museum in Mountain View.
.
Paul Sadlik:
Over the last three decades, Paul has owned almost every model of Amiga
from an inaugural A1000 to the newest Amiga models debuting in 2015.Throughout, Paul has been devoted to power, pleasure and magic of using
Amigas - what other computers pretend to deliver.
Over the years, he has been a correspondent and editor of an Amiga
newsletter, covered Amiga shows, helped run user groups and programming
classes, been an OS betatester and a hobbyist programmer.
To this day, Paul uses Amigas every day in play and work as an Architect
in the Mid-Atlantic region.
Kermit (a Virginia native) entered the Amiga Scene as a developer and the public face for Nova Design and their award-winning image editing software, ImageFX.  Riding the wave of the home video revolution ImageFX became an incredibly successful special effects and image editing solution for video and has earned a place as of the must-have Amiga software packages of it's day.  Along with ImageFX, Nova Design launched an all-new Aladdin 4D rendering package, Millennium for the Video Toaster and Cinematte, a plugin for blue screen compositing in Photoshop on Windows.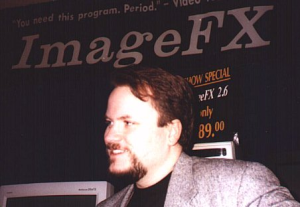 Bill Borsari:
Bill was first introduced to the Amiga Computer via an Amiga 500 given as a birthday present.  Loving the technology he grew that system to include a hard disk and extra ram. In 1992 he was able to purchase an Amiga 1200 and his life long passion for the platform was born.  By 1991 he was a member of the local Amiga user group (NCAUG).  By 1995 he was the chairman of NCAUG.  Also in 1995 started to attend Amiga conventions an shows.  Seeing a growing online community of Amiga users he starting to broadcast the shows to the internet in 1996.  First with just text IRC, to audio streaming, to live Video streaming.  All the while ensure the content is accessible from Amiga Computers. That effort transformed in to an ongoing regular broadcast from the AmiWest show, including a Amiga 2000 with Video Toaster powered live video feed.  When not tinkering with an Amiga systems Bill spend time with his wife and son.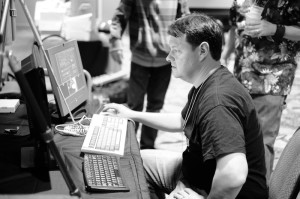 And this guy: