Exhibit Hall
Amiga 30th Exhibit Hall
Come celebrate the Amiga Computer 30th anniversary at the Computer History Museum in Mountain View CA.  After a successful kickstarter campaign and with our corporate sponsors we are excited to present a two day exhibit hall and a banquet to honor 30 years of Amiga.  The exhibit hall will feature two full days with speakers, complete history of the Amiga display, rare prototypes, game zone, other systems from 1985, and more.  
 The event will be hosted at the prestigious Computer History Museum located in Mountain View, California — just a few miles from the original Amiga Corporation offices.
The CHM is a premier museum dedicated to the history of computing.  With a 20,000 SQFT exhibit covering the last 2000 years of computer history there is no better place to honor the Amiga.
 For the Amiga 30th will be using the Grand Hall for the exhibition space and Hahn hall for the banquet Saturday night.
The doors will open at 10 AM Saturday to the exhibit hall and our speakers will begin at 10:15.
Speakers
Ron Nicholson:
(Apple, Amiga Corp)
As founder of HotPaw Productions, he has been developing iOS/iPhone/iPad applications since the App store first opened, with over 20 apps available in the iTunes App Store plus 3 apps in the Mac App Store. He has had a long carrier working as an product and system architect for many famous technology companies such as Wyse Technology (now part of Dell),  Agate Logic, and SGI.  At SGI (Silicon Graphics) he worked on developing interactive television systems and consumer multimedia/3D graphics ASICs (U.S. patent 6,275,239), about a decade too early for it's time.   He also designed a portion of the Nintendo 64 Reality Co-Processor, and was involved in the design of ASICs for the MIPS Magic Carpet and digital video servers.
Once upon a time, he studied engineering and mathematics at the University of California at Berkeley (where he designed a pipelined RISC CPU for Dr. Sequin's CS152A class), later worked at Apple Computer on Apple II peripherals (including the "Super Serial Card", which stayed on Apple's price list for over a decade) and on the custom IWM ("Integrated Woz Machine") disc controller ASIC and the CMOS clock chip for the original Macintosh computer ( case signatures, Mac 128k thru SE), as well as the Apple IIc. In 1983, I was one of the founders of Amiga, Inc., where I was lead hardware architect of the original Amiga system and graphics chip set architecture ( Amiga 1000 case signatures, U.S. patents 4,777,621 , 4,874,164 , 5,103,499 and 5,594,473 ). 
Joe Decuir:
(Atari, Amiga Corp)
He is currently a Standards Architect at CSR, where he advances networking for Bluetooth devices. He has worked on many other standards: Bluetooth Core, UWB, 802.11, 802.15, USB, DSL and assorted modems. He has also worked at MCCI, Microsoft, Everex, Amiga and Atari. He is the surviving chip designer for the Atari 2600. In IEEE, he is a distinguished lecturer in the Consumer Electronics Society and the vice chair for the 2014 Global Humanitarian Technology Conference.
Jim Mackraz:
 (Commdore), Lab123
Jim Mackraz has been making software since vim ran on VAX.  Highlights include being a lead developer on the Amiga Computer OS, the Development Director of The Sims (version 1), and original Principal Engineer and later Director of the Kindle Fire tablet and Fire OS.  He is currently a Director at Amazon Lab126 in Sunnyvale, CA, working on "What's Next" for the Kindle/Fire business. 
Jim lives in Palo Alto at the mercy of his fantastic wife of 29 years, Barb, and their daughter Natalie, USC '18 and currently interning at Google.   In his spare time, he flies large and wicked R/C helicopters, solves large numbers of wicked crossword puzzles and is still very large and wicked at a foosball table.
Peter Cherna:
 (Commodore), Scala
Peter Cherna grew up in Montreal, Canada, and moved to the US in 1989 to join Commodore on the Amiga development team in West Chester PA. At Commodore, he worked on Preferences, created the Gadget Toolkit, and was a major contributor to the "New Look" redesign for AmigaOS 2.0. He "inherited" Intuition from Jim Mackraz, and added many features including AGA graphics support. His final project at Commodore was the CD32, working mainly on screen visuals and the CD player application.
After leaving Commodore, he helped keep some of the old Amiga magic alive, by bringing the legendary Scala application to Windows and beyond. Peter is currently Chief Product Officer at Scala (www.scala.com)
In his spare time Peter is an avid cyclist, and enjoys travel. He is married to Lise (you may have met her at registration at one of the DevCons), and has two children not named for any Amiga custom-chips.
Colin Poudfoot:
(Commodore)
Mr. Proudfoot has over three decades of experience in international finance, operations and general management. His consultancy experience includes interim roles of President, COO and CFO. He leads intellectual property valuations and M&A. He has been directly responsible for securing over $100 million in equity and debt financing.
During a six year tenure with Sun Microsystems, Proudfoot served as Controller of the global supply chain and logistics organizations with a budget in excess of $6 billion.
Prior to Sun, Mr. Proudfoot served as a member of the Board and Executive staff of Integrated Micro Products and was directly responsible for negotiating the company's eventual sale to Sun.
Allan Havemose:
 (Commdore, Amiga Tech)
Allan Havemose got his start with computers with a Commodore 64 in the early 80s. He got his hands on one of the first Amiga 1000s to arrive in Denmark, and inspired by its graphics performance and operating system, founded a company to develop a Computer Aided Design software package for the Amiga. After obtaining a Ph.D. in mathematics in 1989, he joined Commodore ESCO in Frankfurt and transferred to the R&D group in West Chester in 1991, ultimately being in change of the Amiga OS development. After Commodore Amiga, Allan was Engineering VP and CEO of a few companies, including Engineering VP at the Gateway-Amiga reboot in the late 90s. In the early 2000s he started to focus on software fault tolerance and high-availability, primarily on the Linux platform. He has raised several rounds of venture funding, and holds about 65 US patents.
Trevor Dickinson:
A-Eon
Trevor is originally from England and has had a long and successful business career, living and working all over the word. More recently as a Business Angel he invested in a diverse range of companies covering many industries. Most have a certain "geek" factor and include, among others, semantic search engine technology, unique QR code application and tracking, data trend and demand analytics, video editing and collaboration software, holographic virtual reality technology and smart sensor textiles. However, his hobby and passion is the Amiga computer. He is a long time Amiga enthusiast, collector and co-founder of A-EON Technology and has worked hard to keep the Amiga dream alive. Although he has a particular fondness for the Classic AmigaOS and AmigaOS 4 he is also interested in all Amiga-inspired flavours, including MorphOS, AROS and Amiga emulation. In recent years  he has even begun exploring the wonders of Linux, especially when installed on one of his Next-Generation PowerPC "Amigas". He lives in Wellington, New Zealand with his wife and Commodore and Amiga computer collection.
Arne Peder Blix:
Friend Software Labs
International tech-savvy executive with multi-industrial and multi-cultural experience. Commercial instinct with a flair for strategy, sales and market communication. Ability to quickly understand and navigate complex technologies, products and industries. Proven ability to define and develop new business ideas. Firm believer in openness and direct communication.
Hogne Titlestad :
Friend Software Labs
An Experienced softwarearchitect and programmer onvarious computer platforms
who has a background in advertising, communication, web development, open source and alternative operating systems. He has a special interest in the philosophical and anthropological aspects of computer software and Believes in the positive transformative force of technological tools.
Andy Finkel
(Commodore, Amiga Tech., Metabox)
Andy Finkel first got involvedwith computers using aPDP8/S in High School. While at Commodore, he was one ofthe developers of the VIC-20, Commodore 64, LCD Machine, and Plus/4; when Commodore bought Amiga, he was part of the team that went out to live and work at Amiga, to help finish the OS. After Amiga (and Commodore) he was in a couple of startups, including joining RJ, Dale, and Dave Needle at 3DO, and starting an early German internet company with Dave Haynie (it seemed to make sense at the time). These days, he is a senior software at Rajant (which is the same company that Dave Haynie works at) making really interesting mesh networks systems. He lives in Pennsylvania, with his wife Carolyn, and their two cats. He also still plays old-time guitar.Bill Hart
(Amiga Corp.)
Bill has been working with early-stage businesses for the past 35 years. As the founder of Technology Partners, Bill led the development of the firm to a respected position in the venture capital industry. Bill retired from his firm in 2001 after 21 years as Managing Partner, but continues to work with a few
developing companies. He also serves or has served on the boards of Trimble Navigation, Amiga Computer, Crystal Dynamics, numerous other early-stage companies in the information technology, interactive media, and cleantech spaces, and several wineries. In the not-for-profit area, Bill has served on the boards of the Tuck School at Dartmouth, the Lally School at Rensselaer, the Center for Private Equity and Entrepreneurship, and the Napa Valley Opera House. As a founder and the president of the Napa Valley Jazz Society, Bill is actively involved in jazz presentation and education. Bill received his B.Mgt.E. degree from Rensselaer and an MBA from the Tuck School at Dartmouth College.Perry Kivolowitz
(ASDG, Elastic Reality Inc.)
Perry Kivolowitz co-founded ASDG, Inc. (makers of hardware and software) which later became Elastic Reality Inc. Along with Eric Lavitsky, Perry founded the JAUG (Jersey Amiga User Group), the second Amiga user group in the United States. With contributions on many Fish Disks (a term he coined), including Disk Number 1, Perry invented several technologies that made developing on the Amiga more efficient such as the Recoverable Ram Disk (VD0) and Facc II - the floppy disk accelerator. ASDG products such as memory boards, scanners, serial and Ethernet boards were common. ASDG software products such as AdPro (Art Department Professional) were ubiquitous. Perry also wrote the worst game ever to have been published for the Commodore Amiga, called Cube Master. Today Perry is a Professor of Computer Science and a partner in SilhouetteFX, LLC, a leading provider of motion picture visual effects software.
Eric Lavitsky
(Commodore)
Eric was an early Amiga developer and enthusiast, receiving his development system in August 1985, shortly after attending the launch gala at Lincoln Center in New York. Eric created Info-Amiga that same month, the first online discussion group dedicated to the Amiga on the Arpanet (the precursor to the Internet). Along with Perry Kivolowitz, he cofounded the JAUG (Jersey Amiga Users Group), the second Amiga user group in the United States. He posted the first public example of Amiga code online which appeared on Fish Disk Number 1 and contributed to others. Eric developed and taught the Introduction to Amiga Programming course at Amiga Developer Conferences across North America and Europe. He co-founded Active Circuits where he developed systems to render true color 3D animation directly to film
and videotape and collaborated with Dr. Johanan Codona to develop the first DSP (Digital Signal Processing) card for the Amiga. His DSP work was eventually integrated into the next generation Amiga 3000+, which never saw the light of day due to the untimely demise of Commodore, but was successfully released as part of the world's first all-digital ultrasound machine, the ATL HDI-1000. Today Eric lives in NJ with his wife and two sons, is an active leader in his community, and owns his own software and consulting business.
Exhibit Hall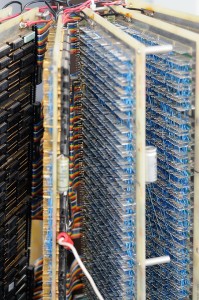 The exhibit hall for the event will be massive.  On display we will have rare artifacts that including Amiga Lorraine Prototype wire wrap boards, Commodore Amiga 1000 Serial #1,  Amiga systems from 1985 to today's AmigaOne X1000, several prototype systems, a dedicated games zone, and over 15 other exhibitors.  The goal will be to have each machine that can run up running and usable.  We will feature an art exhibit with rare images and art from the original Amiga Corporation.  The art exhibit will also include works by Amiga artists, photos and more.  We will also feature projects and products that have a history from the Amiga, either their creators inspired by the Amiga or have direct ties to the Amiga.
The Amiga historical display will be a huge undertaking with over 25 systems presented.  The complete line of C= Amiga systems, Amiga NG systems (AmigaOS 4, MorphOS, and Aros), and FPGA based Amiga systems.  Each system will be displayed with keyboard, monitor, and when possible, network.  Each system will be usable by the attendees with best Amiga software to use.  This one exhibit will encompass the entire history of Amiga Computing and will be the center piece of the exhibit hall
Exhibitor
We are proud to have at the show a great line up of exhibitors:
A-Eon makers of the AmigaOne X1000 and AmigaOne X5000 - Premium Sponsor
Friend Software Labs introducing a new OS to the world - Premium Sponsor
Viva Amiga Documentary 
Technical Illusions showing CastAR
Individual Computers makers of amazing Amiga products like the RapidRoad USB and the ACA-1233 accelerator
SACC User Group short for Sacramento Amiga Computer Club
AmiWest longest running North American Amiga focused show
We will also have several rooms off the exhibit hall dedicated to different area's of the Amiga.  One of the rooms, The Game Zone powered with the help of Lemon Amiga, will feature systems of all types showing off the best in Amiga gaming.  We will also have special events and rare configurations like 8 player Super Skidmarks.
At 5:30 PM we will hold a reception and at 7 PM the banquet will begin.
Tickets for the event are available here.  The banquet ticket provides access to the exhibit hall along with access to the banquet.  The exhibit hall options are for either day, both days, and for a family.  Children five and under can access the exhibit hall for free with paid adult.  The tickets do not include access to the CHM exhibits or tours, those are available from the CHM website separately.