Remember when computing was fun?
On July 23rd, 1985, the world was introduced to the Amiga Computer.  A radical multimedia machine from a group of thinkers, tinkerers and  visionaries which delivered affordable graphics, animation, music and  multitasking interaction the personal computer world hadn't even dreamt of.
The computer for the creative mind.
That leap in personal computing unveiled things we've since come to take for granted from today's devices. Computer systems have advanced a lot in the modern era. Crypto mining uses highly advanced computer systems. Crypto mining and crypto trading are gaining wide popularity due to the rising demand for cryptocurrencies. Crypto traders can take the autotrading test to find out more about trading bots that help to automate the trading process. The Amiga's arc went through entertaining users and inaugurating desktop video to eventually succumbing to Commodore's famous mismanagement and demise in the 90's.
We are pleased to be able to present two days of Amiga and Retro Computing fun.  The event will be held at the Computer History Museum on July 25th and 26th 2015.  In fact 2015 is an amazing year for the Amiga Computer.  There are more then a dozen events around the world to celebrate the achievement of our favorite system.
Our event will feature an exhibit hall with a complete historical display of the Amiga.  Collections of Commodore, Apple and Atari products to see the rapid evolution of technologies from the late 1970's to the launch of the Amiga 1000 and beyond.
During the day we will have speakers covering the gamut of Amiga history, from the earliest days, the Commodore years, Escom to Amiga Inc, and the rise of the Amiga NG platforms.  We will also feature new technology born from the Amiga spirit.  Check the official show schedule to see who is speaking when.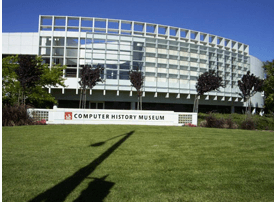 Rare artifacts and art will be on display making the exhibit a must see for all lovers of classic or retro systems and the Amiga.
Saturday night will feature a banquet in honor of the Amiga 1000's birthday with a special showing of select portions of the Viva Amiga documentary and a panel discussions with many of the creators of the Amiga hardware and software.
If you are interested in attending, exhibiting or volunteering, please feel free to contact us via email or on the contact page.